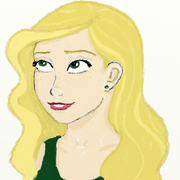 Leona Patterson

Name:

Leona Patterson

Alias(s):

Wings

Age:

17

Gender:

Female

Powers/Abilities:

Flight, Feathered Wings

Relatives:

No information

Associations:
Appearance
Edit
Leona Patterson is the fourth oldest in the group at 17. She has wavy, golden-blonde hair that falls to her waist. Her hair has lighter blonde highlights throughout. She has big, green eyes with dark lashes, lightly tanned skin, and a light dusting of freckles across her nose. Leona is 5'6, light-weight and slender. She is slightly muscular and, like the rest of the group, becomes more so after she begins hero work.
Leona's superhero outfit consists of: A dark green tanktop, a 3/4 sleeve tan/dark aviator jacket (with two slits in the back for her wings), tan pants, and dark brown leather boots. She also wears a mask that resembles wings and has her hair pulled back with a green scrunchi. 
Powers & Abilities
Edit
After the bunker explosion, Leona begins to grow wings. It begins as an increasingly worsening rash between her shoulder blades, that eventually become the starting of wings. When they are fully grown, they are tan and speckled with variations of brown throughout (similar to a hawks'). Wingspan is 14ft when fully grown.
Personality
Edit
Leona's favorite color is green.
Leona lives on a horse farm.